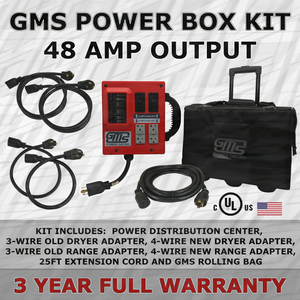 ABOUT GMS DISTRIBUTION
GMS Distribution manufactures and sells portable power distribution boxes and electrical cords for contractor use (residential, apartment and hotel). Our primary goal is to save our customers (contractors) time and money by providing the industry with an easy source of electricity for their equipment. Designed by an electrician, GMS's Portable Power Distribution Centers (the"G-Unit") are small, compact, lightweight, colorful and easy to use. Every G-Unit is hand-assembled by GMS Distribution in the U.S.A. to provide you with a simple power solution that will exceed your expectations. Headquartered in Fort Wayne, Indiana, GMS Distribution distributes and sells its products in the United States and Canada.
Heroes: Gerret Stier, GMS Distribution
THE G-UNIT
30 Amp Portable Power Box
GMS's Portable Power Distribution Centers have been designed to be the easiest power box you will ever plug in. GMS is focused on the customer's needs. Every power box has been engineered to provide you the very most electrical protection while offering numerous choices for power options. All 20 Amp outlets are GFCI equipped and the enclosure is insulated (NOT METAL) to protect against personal electric shock. All power boxes come standard with the correct 30 Amp overcurrent protection. All power boxes are UL Listed in the USA and Canada. It is our goal at GMS to provide you with simple power solutions that will save you time and exceed your expectations.